CHICAGO AIRPORT PARKING
How Does Parking at the Airport Make Traveling Easier?
Whether you're embarking on a family vacation or a routine business trip, getting to and from the airport can be hassle.
There are many different options available, including taking a bus, taxi or train, parking one's car at a hotel or having made prior arrangements with someone to pick you up or drop you off.
For some of us, driving ourselves to the airport can be somewhat intimidating, but the truth is, utilizing Cheap Airport Parking can make the entire traveling process so much easier.
Chicago O'Hare Airport (ORD) has multiple options for both on and off-site short-term and long-term parking.
HOW MUCH DOES O'HARE PARKING COST?
While the perceived expense might initially discourage you from parking at the airport, it is actually quite affordable, particularly when you explore off-site options.
Want an airport parking reservation discount? Use this code: MYORD20 when selecting your travel dates and times. Be sure to use a desktop or laptop computer when entering your travel discount code.
WHERE CAN I PARK AT O'HARE AIRPORT?
O'Hare airport is located close to downtown Chicago, the busiest airport in the United States. The considerable number of people that travel through the airport can create gluts in the immediate parking areas, making off-site parking the best option.
HOW MUCH DOES IT COST TO LEAVE CAR AT ORD?
You can spend as little as seven dollars a day in highly secure and safe lots.
IS THERE FREE PARKING AT O'HARE AIRPORT?
Although free parking is not available, there is a free shuttle that runs twenty-four hours a day so you don't have to wait to be brought to or from the lot. You have the option of making a parking reservation to guarantee your space for an additional ten dollars.
IS IT SAFE TO LEAVE MY CAR AT O'HARE OFFSITE PARKING?
These parking lots are very safe and are equipped with security cameras that operate twenty-four hours a day. This means you can board your flight with peace of mind.
Likewise, if you're returning to your car very late at night, you can enjoy bright lighting and a secure, well-maintained parking area.
FLYING OUT OF CHICAGO AIRPORT?
We have various short-term and long-term parking options which are only about ten minutes away!
When you park your car at the airport, you have as much control over your schedule as possible.
You don't find yourself at the mercy of a train or bus schedule, and you don't have to rely on anyone else to travel back and forth.
Similarly, lots are open twenty-four hours a day and you can arrive and leave at any time. This is a huge benefit, as traveling is unpredictable at best and downright stressful at worst.
Things like changes in the weather or maintenance can throw your entire itinerary off.
Even if you've arranged for someone to pick you up, delays can make these previous plans impossible, leaving you with the need to find another way home.
At the end of a trip, no one wants to have to worry about getting home after they land. There's nothing better than knowing that all you have to do is take a small walk or hop onto a shuttle before being brought back to your very own car.
You want everything to be as stress-free as possible when you are traveling. Parking at the airport also means that you are able to get there with ample time to settle in and relax before boarding your flight.
This is a great time to take advantage of one of the many wonderful restaurants O'Hare has to offer, as well as their pubs and take-out facilities.

The Best O'Hare Airport Food (ORD)
Where to eat at Chicago O'Hare International Airport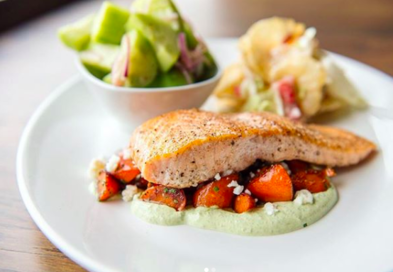 Berghoff Cafe: Located in Terminal 1, this gorgeously decorated restaurant offers a warm environment with dark wood and stained-glass coupled with excellent German cuisine.
It is an offshoot of its original location in downtown Chicago, and all of its breads are baked fresh each day at the original location and delivered to their O'Hare counterpart.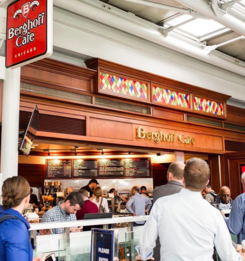 Berghoffchicago. "Photo of front of Berghoff Restaurant, ORD."
While there are plentiful options for early morning travelers, such as omelets and breakfast sandwiches, the true star is Berghoff's signature hot carved sandwiches.
You can choose from a wide variety, including corned beef, black forest ham, turkey, bratwurst or roast beef, and then add on whatever suits your personal taste. There is everything from cheese to sauerkraut or grilled onions and pepperoncini to make it your own creation.
You can also get paninis and various hot and cold sandwiches, a real treat whether you are dining in or grabbing it on the go.
Berghoff has some signature dishes that are quite impressive, such as a grilled bratwurst served with sauerkraut and Swiss-cheese, and a giant baked pretzel dusted with salt and served with beer cheese.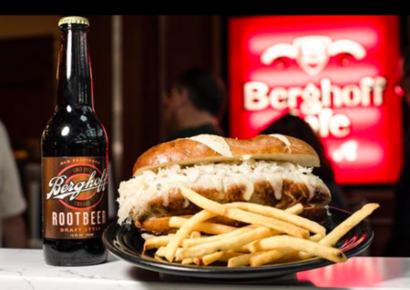 Berghoffchicago."Photo of Bratwusrst Sandwich, Berghoff Cafe O'Hare."
Publican Tavern: Located in Terminal 3, this is a welcome spot for taking in a bite to eat and blocking out the typical airport atmosphere. With its cozy interior, and friendly, attentive service, this is an ideal place for a quality meal before you embark on your flight.
The old-world decor will set you at ease, as will the delicious menu, which focuses upon creative elements coming together to create a twist on classic dishes. Likewise, everything is as locally sourced as possible.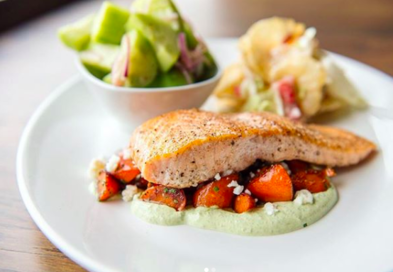 Hmshost."Photo of Salmon and Polenta, Publican Tavern."
There are some smaller plates that are out of this world if you're just looking for a snack, such as the spicy pork rinds or burnt chile chicken wings served with a unique dill yogurt sauce. If you're looking for something a little heartier, grab a classic pub burger or an organic roasted salmon paired with fresh salsa and creamy polenta.
Torta Frontera: Located in Terminals 1, 3 and 5, this is many travelers' hands-down, go-to spot when they land in or depart from O'Hare International Airport. As its name implies, this place specializes in some of the most delicious tortas you will ever eat.
Check out this awesome video of one of the best restaurants at Chicago ORD Airport.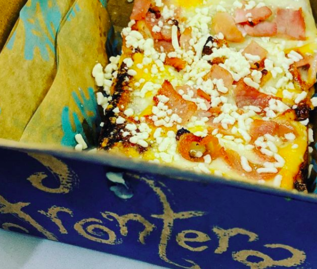 Redmond Aaron,"Photo of Pork Molette, Torta Frontera"
A torta is a Mexican sandwich that is stuffed with various ingredients, then grilled and baked to perfection. You can choose from a variety of delicious fillings, such as short rib, shrimp, spicy chicken and even goat cheese for a vegetarian option. There's also a guacamole bar that is out of this world, as well as the best Bloody Mary's in the entire airport!
Jessy Eats"Photo of Braised Beef Pepito, Tortas Frontera at Chicago O'Hare, Terminal 3"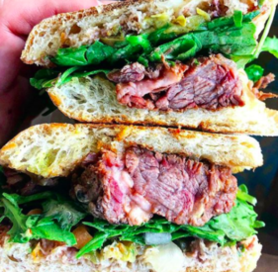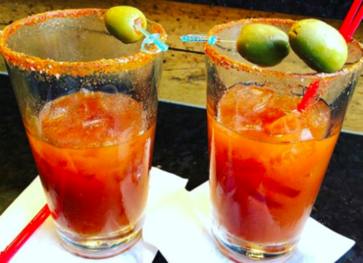 Loricahill"Photo of Two Bloody Marys", Tortas Frontera at Chicago O'Hare, Terminal 3
Wicker Park Seafood and Sushi Bar: Located in Terminal 2, the idea of treating yourself to gourmet seafood and an incredible sushi selection while in the confines of an airport may seem unusual, yet the variety here is as fresh as can be and absolutely amazing.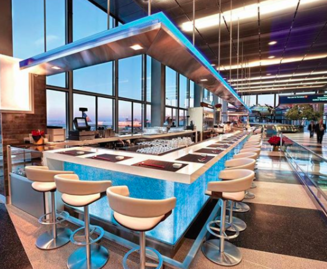 Caesarstone US"Photo of Sushi Bar", Wicker Park Seafood & Sushi Bar.
Aside from having the pleasure of watching the chef create beautiful rolls at the sushi bar, the atmosphere is clean and classy as well. While there are a number of options available here, the signature roles best showcase the chef's talents.
Go for a Hot Night Roll, which consists of shrimp tempura and tuna coupled with spicy radish and scallions, or the Tenderloin Roll, made from tenderloin steak, asparagus, radish and a spicy mustard soy dressing. The oysters on the half shell coupled with the Asian salad makes for a perfect lunch, particularly when coupled with something from their impressive sake bar.
Yumstoppable "Photo of a poke bowl", Wicker Park Seafood & Sushi Bar.