Reserve Airport Parking While Airborne
6 Mar 2012 by Dean Adams

Would you like to get your go-go inflight internet bill refunded so that you can enjoy it for free? Just spend 10 min of your flight time reserving airport parking with us. Chances are you'd parked your car at one of the parking lots we work with. By reserving online my girlfriend (on the picture) reduced our JFK parking bill by $30, with almost covered one month of Delta's onboard internet. It's that simple: park at the airport, board your plane, wait until you're above 10,000 feet, go online, select your parking facility and reserve parking AFTER you parked. The only minor inconvenience is that you'll have to print out reservation confirmation. Most of the hotels and even motels allow you to print boarding passes and itinerary related documents for free.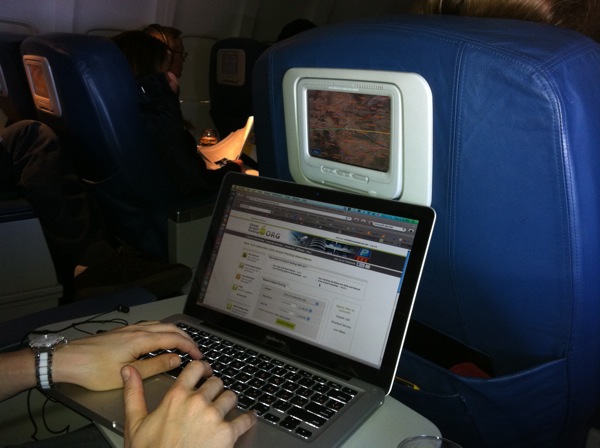 We live in Manhattan and usually take a cab when flying from JFK or La Guardia (taxi fares to Newark airport are so expensive and parking at EWR is so cheap that we prefer to drive there), but this time we went on a ski trip to Utah. Ski do not feet into the ugly Town Cars that city of New York uses as its official taxi car, so we had to drive our own car to the airport and find a place to park it.
back to blog