Top 5 Florida Beach Vacation Ideas
1 Jun 2017 by Melissa Ruiz

Did you know that Florida has 663 miles of beaches? It's no wonder there are so many beaches to choose from when planning a Florida Beach Vacation.

Choosing the perfect beach depends on a few factors. Are you planning a family friendly vacation? Are you wanting a weekend getaway with your friends or significant other? Is outdoor adventure important or are you looking to relax?

With 1,197 miles of coastline, some beaches have similarities depending on its coast. The gulf coast of Florida is known for perfectly white sandy beaches and clear waters that are perfect for exploring.

The northern Gulf, has beaches with stunning emerald waters perfect for boating and spotting Dolphins. To the south, you'll find the Everglades where fishing and eco tours are popular.

On the Atlantic Coast of Florida, there is an eclectic mix of cities and towns. Whether you like to surf, snorkel, travel back in time, or dance the night away, there is a perfect beach destination waiting for you. A couple points of interest are the

Southern Most Point

in the Key West, The Kennedy Space Center in Cape Canaveral, and the Spanish 17th castles found in St. Augustine Beach.

Our infographic highlights some of our favorite beaches to consider when planning a Florida Beach Vacation this year.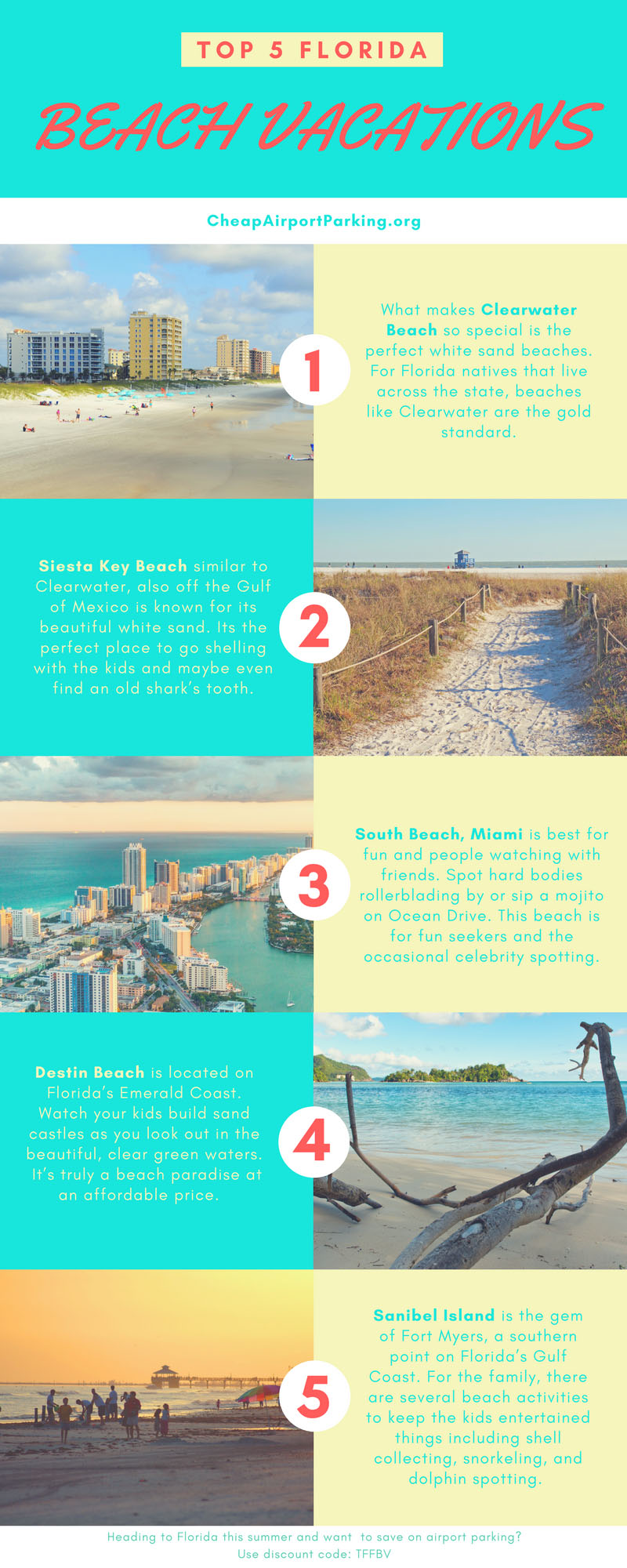 1. Clearwater Beach - Known for its white sandy beaches, it is one of the more preserved and pristine beaches in Florida. Clearwater is very family friendly, calm, and has some old Florida charm. A famous landmark is
Pier 60
where locals and tourists can catch the sunset. The closest major city is Tampa which can easily inspire a day trip to Busch Gardens or other nearby theme parks.
2. Siesta Key Beach - Very like Clearwater beach when it comes to white sandy beaches. For relaxing, Siesta Key is the best place to slow down and get away. The nightlife and tourists are minimal and restaurants close early. On most public beaches, you might feel like you've got the beach to yourself. To add some action, head on over to nearby Sarasota where there are museums, local
festivals
, and cultural events.
3. South Beach, Miami - While Miami is known to be a slower major city, this is not the beach vacation for those who want to get away from it all. There is a lot to do and see on this beach. You might need a vacation from your vacation. While it can be a family friendly vacation, this is a pricier destination on this list. Hotels are more on the luxurious side. Relax like a VIP at world class spas only to get "turned up" again at a hotel pool party. The beach is usually full of tourists as well as the restaurants, bars, and dance clubs.
4. Destin Beach - As the most affordable beach on the list, it is great for families to come and get away as well as experience lots of great activities. For vacationers wanting a beach vacation with some adventure, Destin is a great option. The resorts lined up the Emerald green waters are known for great service and cleanliness. For outdoor fun, there are dolphin cruises, paddle boarding, and fishing. Another bonus is the
great seafood restaurants
.
5. Sanibel Island - Also paired with Captiva Island, is a southern Gulf beach perfect for family friendly relaxation. Plan a beach day of shelling with the kids or observe the marine wildlife. For golf lovers, Sanibel and Fort Myers has beautiful golf scene with tournaments for pros and novices. Because of its proximity to the Everglades, it is perfect for nature lovers. For some romance, catch the spectacular sunsets or book a spa treatment at a local resort.
We hope our list gave you some beach fun inspiration. Don't forget to look at our Pinterest Board dedicated to
Florida Beach Vacations
!
back to blog