Best Airport Art
21 Jun 2011 by Jennifer MacLean
Whether you travel for business or pleasure, you're bound to spend a great deal of time in an airport someday soon. The next time you're walking through to catch your flight, or waiting to pick up a friend at the arrivals gate, look around. Airports everywhere are putting a new focus on public art, in an effort to make your visit more pleasant, and perhaps even a little inspirational.
While the trend is worldwide, some of the very best works of art can be found in American airports. The Miami International Airport has chosen stunning works of art, with a distinctly Latin feel. The new South Terminal features two massive murals by the Brazilian artist Carybe, which were brought here from a soon-to-be-demolished terminal at New York's JFK airport. In the North Terminal, airy mobiles by the artist Emilio Adan Martinez drift like sails and kites high above your head.
Many works of great art in America's airports use the theme of flight as their inspiration. At the Jacksonville airport, the new
Sky Bridges
installation in the connector bridge also hangs from the ceiling, using the natural light of the renovated area, and the bridges of Jacksonville to mimic beams of light and the arc of an airplane's take off.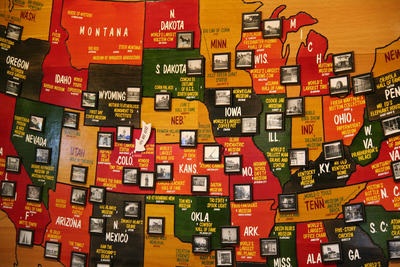 The Denver International Airport has commissioned 30 works of art, ranging from sculptures to murals, in an effort to create the largest airport art program in existence. One of the most fascinating and colorful pieces is called
"America, Why I Love Her"
, located in Terminal East by the baggage claims. It was created by Gary Sweeney, who is public artist who also works here as a baggage handler.
Chicago's O'Hare International Airport has a stained glass collection throughout International Terminal Five, and the pedestrian tunnels feature more than 500 feet of murals and neon light sculptures, which make it worth stopping on the moving sidewalks, just to be able to spend more time with the experience.
San Francisco's International Airport also features dozens of art installations throughout the airport, including the favorite and inspirational ceiling mural
"You Were in Heaven"
by Ann Preston, which livens up the corridor of the Arrivals area.
Airports are no longer just considered to be places to pass through on the way to your flight, or your car. Today, these thriving public spaces are more like bustling shopping malls, where you can spend hours, either on a layover or while waiting for a friend. So why not look around, and see if you can find a little joy and inspiration in the art that surrounds you, the next time you spend time in one of America's airports?
back to blog